– Mar 15 Col Steve Whitney, SMC/GP – tentative
– Apr Tom Fitzgerald, SMC/EN – confirmed
– May Col Shanaz Punjani, SMC/ORS – confirmed
– June Larry James, JPL (not confirmed)
– July Dr. Roberta Ewart SMC Chief Scientist (not confirmed)
– Aug Col Rob Bongiovi SMC/LE (not confirmed)
Feb 15, 2018
Colonel Stephen G. Purdy Jr.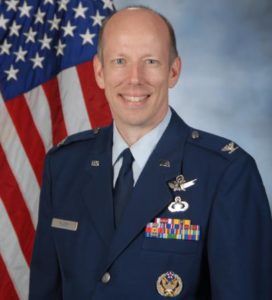 Colonel Stephen G. Purdy Jr. is the Director, Space Superiority Systems Directorate (SMC/SY) at Los Angeles Air Force Base, California, where he directs and equips the warfighter with space control systems to gain, maintain, and exploit space superiority. He manages a multi-billion-dollar budget and leads a 550-person program office and 3,000-person industry team at multiple locations throughout the country to support operational systems worldwide. Colonel Purdy received his commission through ROTC at Baylor University in December 1993, stayed to complete his master's degree in Computer Science in 1995, and entered active duty in September 1995. His career spans a variety of technical management, leadership and staff positions across networking, space acquisitions, space policy and congressional sectors. He has served as an Air Force Intern, Space/Nuclear/Cyber Congressional Appropriations Liaison, Materiel Leader in the Evolved Expendable Launch Vehicle Program, and as a student at the National War College.Dress code is Business / Uniform of the Day.
---
April 27, 2018
Whether you are a graduate, parent, friend, or Air Force Supporter,
this is a great day to come out and play!
---
We provide funding for
Scholarships to ROTC, Active Duty and Civilian personnel associated with Space and Missile Systems Center.
SMC Spouse Club
High School Science Programs
and MORE